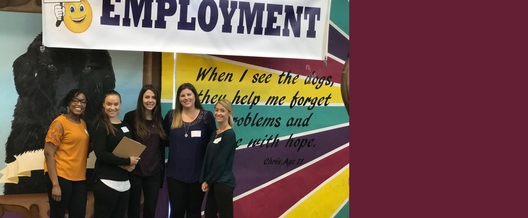 Crossroads Volunteers at Casa Pacifica's Road To Independence Program
Last month, Crossroads staff members had the wonderful opportunity to take part in Casa Pacifica's Road to Independence Program as volunteers. According to Casa Pacifica, "Road to Independence intends to prepare Casa Pacifica Transitional Youth with a fundamental understanding of what to expect from life once they begin their journey on their own." It was truly a great experience for our staff to be a part of. Here's what each of our staff volunteers had to say about the experience:
Whitney
We volunteered at the Employment booth where we performed mock interviews for the transitional youth within the Casa Pacifica program. Each child had to sit down with us, choose a job from the "add in the newspaper" and fill out an employment application. The jobs ranged from a Cashier at McDonald's to an Office Assistant with a Newbury Park Medical Facility. If needed, we coached each child on how to properly fill out the application and the importance of attention to detail and completing the application in its entirety. After they successfully completed the app, we went through a series of interview questions with them such as why they feel they would be a good fit for this role, how would they handle a conflict with a coworker or boss, and what were their present and future goals. After the completion of a successful interview we were able to offer the youth the job as well as what they did well and how they could improve. All of the youth participated in the mock interviews and were very receptive to our feedback. It was hard to see these young individuals and know that they have experienced some kind of trauma in their young life. But if they can get through all of their hardships and come out on the other side then all of us can accomplish anything! What Casa Pacifica does for these children is phenomenal. They are providing them with guidance and kindness that they will hopefully take with them into adulthood. Overall, it was a wonderful experience to be a part of and I would love to do it again next year!
Erika
The Road to Independence Day hosted by Casa Pacifica was an amazing event to be part of! I have participated in volunteering projects in the past, but this was my first time working with children who have been in foster care and/or group homes. Having the privilege to go through mock interviews with children who will soon be transitioning from foster care to the real world was very eye opening and rewarding. The children were very excited to be there, were enthusiastic during the interview process and seemed to be very grateful for our time with them. I can't wait to help more children who take part in this event next year along with my fellow Crossroads Partners.
Bethany
Up until the day of the event I was thinking we would have a fun day outside of the office with the girls doing something great! What I wasn't prepared for was how eye-opening and truly humbling the experience actually was. After the few short hours of working with the youth at Casa, not only did I feel like I can actually make a difference in someone's life, but I was entirely more aware of my community. I learned that day how generous and good people actually are. I walked around and introduced myself to people working at the other booths and realized that majority of the people volunteering the event were returning for the 4th and 5th time. The kids that we were working with that day are meeting some of the most challenging times in their lives and Casa has made it their goal to restore hope and joy of daily life and give these teens a sense of belonging in the community. It was beautiful to know this is my community, this is where I raise my daughter, and these are the people who are building and nourishing the community she will one day have the opportunity to contribute to also. I am overwhelmed with gratitude for the opportunity to participate in the Casa Pacifica Road to Independence event. I only hope I was able to impact the path of self-sufficiency for at least one of the teens of Casa, as they have impacted and inspired me. Every single teen I met that day left an imprint on my heart… Every single volunteer opened my eyes.
Chelsea
I loved getting to volunteer with some of our Crossroads team on Saturday at Casa Pacifica. The staff at Casa Pacifica was so friendly and helpful going over what we needed to do in performing mock interviews and assisting the individuals in the program with filling out job applications. I performed interviews with about 7 people in the Casa Program and I had a great experience. Some of the individuals participating had excellent answers, great eye contact, and were really prepared to do an interview, whereas others were more nervous or resistant. All responded great to the feedback provided, and agreed that is helpful in preparing them for a future interview. I think that this event is excellent for young adults to prepare them for all that life can throw at you, and I would definitely volunteer again.
Nicole
My experience with, "The Road to Independence" at Casa Pacifica was beneficial, inspiring, and an uplifting experience. Going into this, I wasn't quite sure what to expect, but I think we were all pleasantly surprised. We met in the morning and were given the agenda and provided with a series of interview questions, and a sample employment application for the youth to complete. They were given several positions they could choose from to "apply" for. As the youth started arriving at our booth it was apparent we were all a little nervous. The majority of them chose to apply for the position at a popular tech store. Some of the youth had never seen an application before and had a difficult time in completing this, and some blew right through it. The interview questions were very similar to what you would be asked in an actual interview, and the kids gave pretty great answers. After the interviews were complete we gave feedback on how they did, as well as suggestions on how they could improve their techniques. Little things like a sturdy handshake and maintaining eye contact were what I ran into most as far as suggestions to improve on. I am so glad I took part in this day, it was super refreshing see kids who are serious about making a positive contribution in their own future, as well as the future of their communities. If you're interested in volunteering with future Casa Pacifica events and programs, check out their website: https://www.casapacifica.org/. Crossroads loves to take part in helping out our community, and we encourage you to find an opportunity where your staff can do the same!
Related Posts